March 23, 2021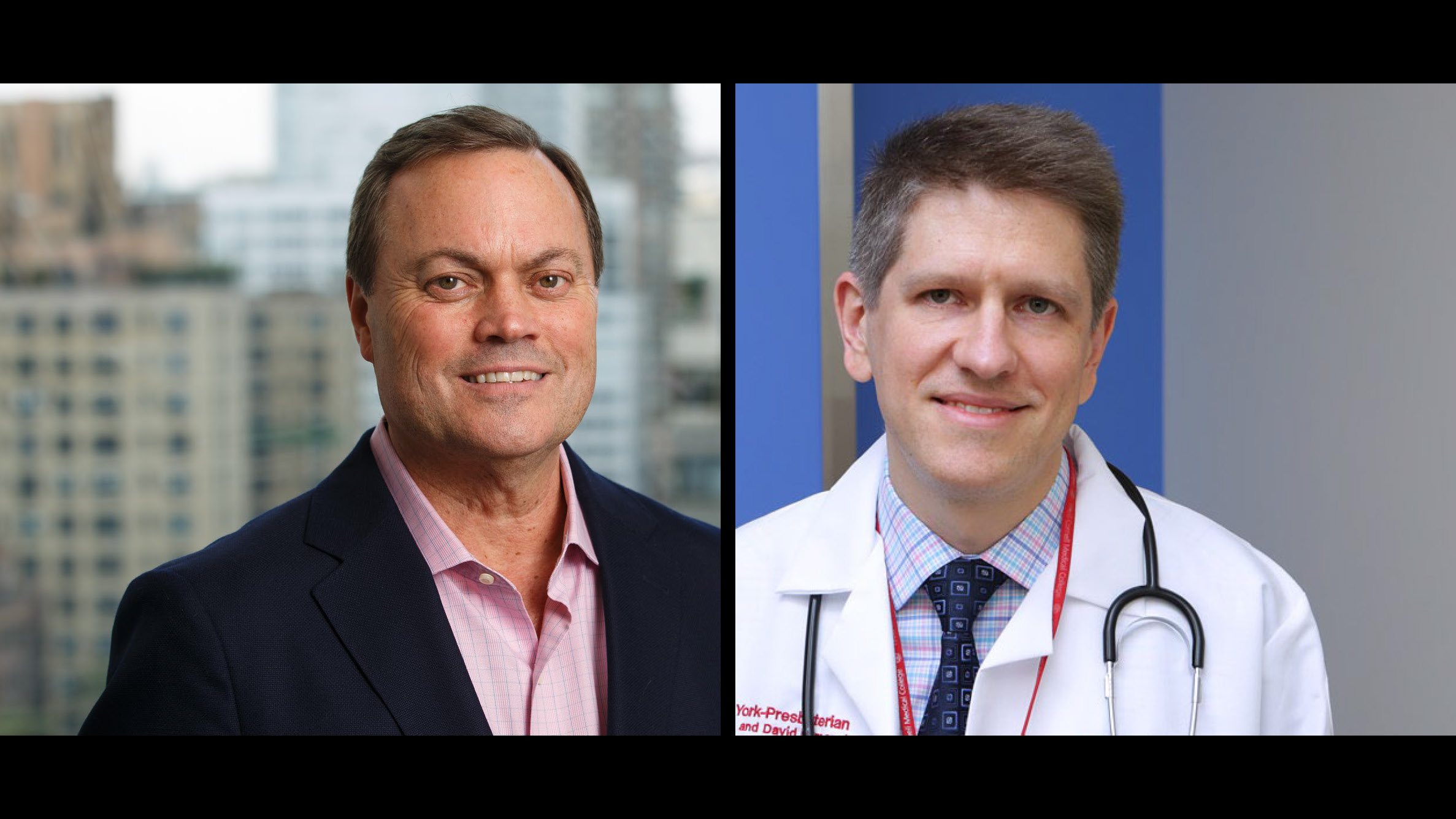 We are pleased to announce the appointment of David C. Lyden, M.D, Ph.D. as Director and Oleh Akchurin, M.D., Ph.D. as Associate Director of the newly launched Physician Scientist Training Program (PSTP) in the Department of Pediatrics. Physician-scientist development is a multi-faceted process that requires extensive mentoring and guidance throughout an individual's career, but particularly during periods of intensive clinical training, such as fellowship and residency. Building a departmental Physician Scientist Training Program will aid trainees at Weill Cornell Medicine and NewYork-Presbyterian Hospital in successfully embarking on a career in pediatric research by fostering research training during their clinical training. In their new roles, Dr. Lyden and Dr. Akchurin will work to develop the program to identify and train the next generation of pediatric physician-scientist leaders engaged in research to improve the health of children.
About Dr. David Lyden
Dr. Lyden brings more than twenty years of demonstrated experience and leadership in research and mentorship. As the PSTP Director, he looks forward to facilitating and overseeing three programs aimed at developing physician scientists within the department: 1) an Integrated Research Pathway (IRP) for Pediatric Residency Candidates, 2) an NYP/WCM Pediatric Scientist Training Program, and 3) a WCM Pediatric Junior Faculty Research Training Program. He plans to strengthen and develop cross-campus programming and research experiences, and collaborations through national networks. As priorities, Dr. Lyden plans on establishing a physician-scientist seminar series and faculty advisory board to help foster the development of a research program for physicians. He will orchestrate courses in grant writing, bioinformatics, and manuscript preparation, and will encourage and support applications to the NIH Pediatric Scientist Development Program as well as foundations. Additionally, Dr. Lyden will oversee the selection and monitor research goals in designated laboratories.
An authority on the mechanics by which cancer metastasizes throughout the body, particularly through the establishment of blood vessels that tumors need to grow and spread, Dr. Lyden has been published in major scientific journals such as Nature, Cell, and Science, and is the lead editor of a major textbook called Cancer Metastasis: Biologic Basis and Therapeutics, the first textbook dedicated to research on metastasis and the treatment of metastatic disease. Recognized internationally for his breakthrough research in exosomes and metastasis, Dr. Lyden is the recipient of numerous grants and awards including a National Cancer Institute Outstanding Investigator Award and a 2021 elected member of the Association of American Physicians.
A passionate educator for trainees at all stages of their career, Dr. Lyden has mentored dozens of residents, fellows and MD/PhD students from various departments and sub-specialties, with many of these trainees becoming successful physician scientists, even establishing their own research labs. Most medical students and high school students he has mentored have been awarded prestigious honors, going on to complete MD, PhD, or MD/PhD programs in pediatrics. As a board member of the POETIC Foundation and The Hartwell Foundation, Dr. Lyden reviews grant applications and progress reports for junior investigators who are awarded pediatric basic research grants and who are involved in clinical trials at national universities and institutes.
Dr. Lyden is the Stavros S. Niarchos Professor in Pediatric Cardiology and Professor of Pediatrics in the Departments of Pediatrics and Cell and Developmental Biology at Weill Cornell Medicine. After receiving his Bachelor of Science (with distinction, Cum Laude) from the University of Connecticut, Dr. Lyden entered the University of Vermont where he completed a Ph.D. in Molecular and Cell Biology. He went on to complete his medical degree (M.D.) at Brown University (now Warren Albert Medical School of Brown University), and a residency in Pediatrics at Duke University. Dr. Lyden continued his training at Memorial Sloan Kettering Cancer Center where he completed a Fellowship in Pediatric Hematology-Oncology, extending his training as Chief Fellow and then Special Fellow.

Contact Dr. Lyden
Office: 646-962-6238
https://vivo.weill.cornell.edu/display/cwid-dcl2001 
About Dr. Oleh Akchurin
As PSTP Associate Director, Dr. Akchurin will work closely with PSTP Director David Lyden, M.D, Ph.D. on ensuring the success of this training program, developing and administering an Integrated Research Pathway (IRP) for Pediatric Residency Candidates, a NYP/WCM Pediatric Scientist Training Program, and a WCM Pediatric Junior Faculty Research Training Program. 
Dr. Akchurin will work with Dr. Lyden on the planning and oversight of the department's PSTP activities to ensure the program's resident and fellow participants progress in their research development and implementation, providing them a platform to become successful research scientists in the future. This will include recruitment of research-interested residents, selection of residents and fellows for the program, mentor identification, development of a research seminar and professional development series, scholarship oversight committees for the residents and fellows participating in the program, reporting on outcomes of the trainees, coordination with Pediatric Residency Program and Pediatric Subspecialty Fellowship Programs leadership for synergistic program development and implementation, among other activities deemed necessary for successful launch of physician-scientist careers in the Department of Pediatrics.
Dr. Akchurin brings a strong background in both clinical and basic science research across methodologies including animal and cell culture models, analysis of patient samples, and patient cohorts.  An expert in chronic kidney disease (CKD), specifically the role of disrupted iron metabolism in the pathophysiology of CKD and its complications, Dr, Akchurin is the recipient of an NIH NIDDK K08 Career Development Award, and other grants, and is the primary investigator of a pilot clinical trial of iron therapy in children with CKD supported by the NIDDK Pediatric Center of Excellence in Nephrology at the Children's Hospital of Philadelphia. He has developed a pediatric CKD registry and biorepository at Weill Cornell Medicine, which includes one of the largest repositories of cryopreserved peripheral blood mononuclear cells collected from children with CKD in the country. Dr. Akchurin's numerous publications include 7 first-author original manuscripts, two original manuscripts as last-author, and three as a collaborator, with several papers co-authored by Department residents and other trainees.  His paper in Blood Purification was named the most cited paper in 2018.
In addition to his research skills, Dr. Akchurin brings diverse experience in research administration and dedication to mentorship.  Most of his mentees, which include residents, medical students and visiting students, have had tangible deliverables from their projects, including abstracts or manuscript co-authorship.  In 2018, the Pediatric Resident Research Oversight Committee presented Dr. Akchurin with their Award for Research Excellence.  He is an active member of numerous national organizations including the American Society of Pediatric Nephrology Research Committee and the Pediatric Nephrology Research Consortium and completed a formal 6-month training in academic leadership through Weill Cornell Medicine's Leadership in Academic Medicine Program (LAMP).  
Dr. Akchurin is the Rohr Family Clinical Scholar in Pediatrics and Assistant Professor of Pediatrics at Weill Cornell Medicine. Board certified in Pediatrics and Pediatric Nephrology, he is an Attending Pediatric Nephrologist at NewYork-Presbyterian/Weill Cornell Medical Center, Memorial Sloan Kettering Cancer Center, The Rogosin Institute, NewYork-Presbyterian Queens, and the Hospital for Special Surgery.  After completing a Bachelor of Science in Mathematics at Taras Shevchenko National University of Kiev (Ukraine), he entered Vinnitsa Medical University (Ukraine) where he received his medical degree (M.D., Ph.D.) and a Master of Science (M.S.).  He completed his residency in Pediatrics at the Women and Children's Hospital of Buffalo/State University of New York at Buffalo followed by a fellowship in Pediatric Nephrology at The Children's Hospital at Montefiore / Albert Einstein College of Medicine, during which he received the Alison Norris Nephrology Fellow Award of the New York Academy of Medicine/ New York Society of Nephrology.
Contact Dr. Akchurin 
Office: 646-962-4324
https://vivo.weill.cornell.edu/display/cwid-oma9005
Please join us in welcoming Dr. Lyden and Dr. Akchurin to these new roles.